Hello everyone and welcome to my blog.
I'm a bit surprise to choose Clarins as my first product to review, but its no coincidence since i used 2 of its products today. I didnt think much of what i was going to write about, it just poped into my mind.
One-Step Gentle Exfoliating Cleanser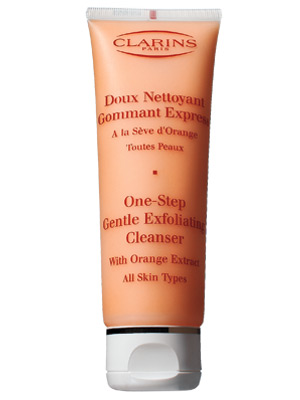 Its name simply says it all, it's a gentle daily exfoliating cleanser, you can cleanse and exfoliate your skin in just one step instead of using a separate cleanser and then an exfoliator. The reason if its orange colors because its made out of orange extract, dont worry it doesnt smell like orange at all and it wont make your face turn orange either.
I've been using this product for about 3 months and i can swear by it, it's pretty much like any daily gentle exfoliator but what i love about it that it creates a foam at the same time. Again i will have to repeat that its a cleanser too.
My advise is never use an exfoliator if you have breakouts, you will basically injure the pimple and it will leave a mark later. So better wait until it goes away, or try not to touch the area while exfoliating (you have to be really careful while doing it).
Bronzing Duo Compact
I've always favored bronzers over blushes, it used to be my addiction years ago until i expanded my make up collection. This bronzer is one of the best if you are looking for a natural sun kissed skin. It doesnt have a glow or shimmer, it's the perfect matte bronzer. From the first look at it you will think that it gives a dark shade but on the contrary, the color is very smooth and sheer. The mixing of the light and dark color does the trick of perfecting the shade.
I spotted this bronzer in one of my shopping sprees around 2 years ago, and its one of my favorites. Its only downfall is the plastic packaging, it feels kind of cheap.
Dont only rely on a bronzer, you always have to use a blush to blush up your cheeks, you only have to add a hint of blush on the apple of your cheeks, do not pull the color all the way to your cheekbones or temples like you usually do. Think of a Geisha blush style. For best result use the small contour brush – F05 by Sigma, or 109 brush by MAC. Dont intensify the color of the blush so you wont ruin the beauty of the bronzer.
Left: MAC 109, Left: Sigma F05 (Image courtesy of Temptalia)