Tom Ford recently launched his makeup and skincare line, it is said to be already launched in Europe and pretty soon in the U.S but the question is, when its gonna be launched in the Middle East? (or did it?) I hate to wait so long for something i already know to be out before months!!
I loved his first lipstick line, its very opaque, pigmented and the colors are amazing, and every time i wear one of the lipsticks i get asked what brand and color it is. But this time the lipstick line and the whole make up line with have a dark brownish packaging instead of the previous white.
I believe Tom Ford made a pretty nice move when he first launched lipsticks only to test the reaction of demand, and it was pretty insane, everyone loved it and were asking for more. I asked for a whole make up line!! I guess my wish came true 🙂 Currently, the collection is available online at www.neimanmarcus.com
By the way, Tom Ford is the one featuring in his promotional photos!!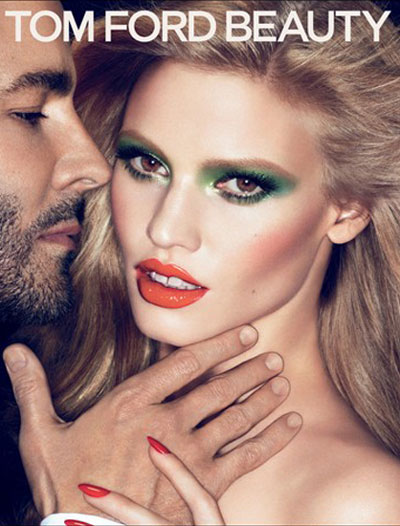 Eye Color Quad: Each Eye Color Quad is designed with four opulent complementing shades that achieve multiple looks, from a bold, smoky eye, to a sexy slash of color and everything in between. Formulated with advanced color processes, the four luxurious finishes—sheer sparkle, satin, shimmer and matte—offer a spectrum of intensity and effects and deliver incredible shade fidelity and outstanding adhesion. Two custom applicators included.
Lip Color: To Tom Ford, there is no more dramatic accessory than a perfect lip. It is the focus of the face and it has the power to define a woman's whole look. Each Lip Color is Tom Ford's modern ideal of an essential makeup shade. Rare and exotic ingredients including soja seed extract, Brazilian murumuru butter and chamomile flower oil create an ultra-creamy texture with an incredibly smooth application. Specially treated color pigments are blended to deliver pure color with just the right balance of luminosity.
Ultra Shine Lip Gloss: A high-shine, color-saturated gloss designed to achieve bold and glamorous lips.
Its smooth and creamy texture has high adherence and easy comfort. It can be worn alone or layered over Tom Ford Lip Color to add dimension to the lips.
Eye Defining Pencil: Create Tom Ford's signature alluring, smoky eye look with this intense, kohl-effect pencil. It combines innovative technology with rich color pigments and glides on skin for an ultra-fluid application. Use outside and inside the lid for an instant sensual and sultry effect. Includes custom sharpener.
Traceless Foundation SPF15:This unique, three-in-one foundation delivers a balanced complexion that glows with vitality and radiance. Extremely lightweight and luminous, it includes the skin-nourishing Tom Ford Infusing Complex to help protect skin and promote its vibrancy from within. Micronized pigments deliver seamless and undetectable coverage that is easy to build up or sheer down. SPF 15 protects skin from sun damage.The Tom Ford Infusing Complex infuses skin with a potent combination of specially selected nutrients that help skin stimulate its natural repair mechanisms. By helping skin cells replenish their natural energy, it fundamentally rejuvenates the complexion, so it looks and feels brighter, fresher and less tired. High-performing antioxidants help protect the skin, creating a vital-looking face.
The skin is left looking renewed, resilient and smoother.
(Top row, from left to right)
Traceless Foundation Stick: Rich in hydrants, this foundation stick's unique cream formula creates a flawless and smooth finish. Portable and precise, it achieves versatility of sheer, medium or full coverage, always beautifully natural and undetectable. Or, when used as a concealer, it swiftly diminishes imperfections.
Illuminating Highlight Pen: The Illuminating Highlight Pen allows you to enhance, contour or diminish your features to create the appearance of symmetry.
The range includes eight highly micronized shades: four tones that catch the light and bring focus to the cheekbones and eyes to create balance and symmetry and four tones that act as skin-priming concealers to diminish flaws and shadows. All eight tones work to soften and diffuse light for a smooth and undetectable finish.
Lip Lacquer Vinyl: Tom Ford's opulent lip accessory: a clear gloss that lacquers lips with precious pulverized pearls, creating a reflective shine and a lavishly soft feel. Use on bare lips for a polished, sophisticated look or layer over Tom Ford Lip Color for a deeply sultry sheen.
(Bottom row, from left to right)
Extreme Mascara: Tom Ford's luscious, deep black mascara magnifies the eyes and intensifies your look. The combination of darkest black carbon and lash-filling powders works to transform lashes with optimal glamour and drama. A creamy formula that lasts throughout the day without caking, clumping or crumbling.
Brow Sculptor: To Tom Ford, the eyebrows are one of the most important elements of the face. A perfectly groomed and shaped brow is the most powerful non-invasive way to define and enhance your features.The unique calligraphy tip allows a tailor-made stroke, from thin to wide. Remove the opposite-end cap to uncover the grooming brush; twist the cap counterclockwise to reveal the sharpener.
Then comes the lip color that i already mentioned before.
Translucent Finishing Powder: Set your sexy, glamorous Tom Ford look with this aero-light formula, made with superfine powders that individually adhere to the skin. It perfectly sets makeup with a sheer, shine-free finish that lasts all day. It disperses light to create a soft blur effect over the face, helping to diminish imperfections. Custom applicator brush included.
Illuminating Powder Translucent: Diffuse imperfections and create radiant skin with this weightless and undetectable, micro-fine powder. Formulated with specially coated pigments, it creates a diaphanous veil of light on the face to achieve a silky, smooth-looking surface. Its ultra-gliding texture blends like a fluid on the skin, moisturizing and redefining the complexion to ensure a natural, even and luminous finish. Custom applicator brush included.
Cheek Color: Symmetrical, sculpted cheekbones are vital to creating the Tom Ford look. This sumptuous powder blush delivers layers of possibility, from a sexy glow to a more dramatic, color-rich look. Formulated with spherical pearls and rich emollients, it glides onto skin with the comfort of a cream, achieving outstanding luminosity and a velvety transparency.
Shade & Illuminate: From Tom Ford's point of view, the first step to beauty is understanding the architecture of your face and bringing balance and symmetry to your features. This duet of highlighting and shading creams is designed to make sculpting and contouring the face remarkably simple.The super sheer, light shade can be used to draw light onto the skin to brighten and lift the face. The dark shade defines and contours bones while staying invisible to the naked eye.
Nail Lacquer: This extra-amplified, gloss and shine nail lacquer, in a wardrobe of shades from alluring brights to chic neutrals, lets you express your mood and complete your look. Its groundbreaking, high-performance formula with bendable coating delivers high coverage and shine while staying color true throughout wear.
Obviously we cannot use such a beautiful make up line without brushes!!The line has an eyeshadow brush, lip brush, Shadow/concealer brush, foundation brush, bronzer brush, cream foundation brush, cheek brush, smoky eye brush, eyeshadow blend brush, eyeliner and eye definer brush, eyeshadow contour brush and shade & illuminate brush.
In addition to the makeup line, Tom Ford added a skin care line that contains: Illuminating Protective Primer SPF12, Noir Absolute for Eyes, Purifying Cream Cleanser, Purifying Gelee Cleanser, Intensive Infusion Eye Treatment, Makeup Remover, Intensive infusion Daily Moisturizer, Intensive Infusion Daily Moisturizer, Intensive Infusion Concentrate Extreme.
| | |
| --- | --- |
|  Make up description from Neiman Marcus. | |